Erik N. Bowman was practically born an entrepreneur. At the age of 10, he launched his first business selling "direct-from-the-grower" flowers from his mom's garden door to door to his neighbors in Seattle. Three years later, he would write his first software program and at 18 he created the catalog system for Seattle Art Museum's rental sales gallery.
At 20, Erik brought his tech savvy talents to Los Angeles to assist a number of companies with their own infrastructure and automation by developing custom software solutions for member organizations, utility companies, banking institutions and numerous small businesses and start-ups.
Erik naturally took to developing websites for his clients before the evolution of do-it-yourself websites and in 1994 he launched his own internet start-up called Cocktail Club which was "an online community for people who like to drink."
Over the next few years, Cocktail Club would become a destination for over 10,000 unique visitors per month (which was a lot back then) and was getting some attention. Erik was approached by Perrier in 1997 who licensed Cocktail Club's drink listings to use at their own web site. "Cocktail Club was a milestone for me," explains Erik, "It was my first site I created that not only made money but was also written up in the media and won an award from a respected web site at the time."
Cocktail Club soon outgrew its original platform and Erik began looking for a better solution to keep up with its growth. "We had to upgrade the site to handle all of the traffic that we were getting but we also wanted to give our visitors a way to connect with each other in real-time and there weren't many options available then," explains Erik.
Seeing how well his community-focused solution was doing at Cocktail Club, Erik expanded his vision with the release of iMessenger in 1998 which has been credited as the first online social network. "We were developing an online social community before Facebook was even an inkling in Zuckerberg's mind. Boy, now I sound old."
Almost immediately, Erik was contacted by a number of start-ups wanting to use the technology for their own online communities and so iMessenger was white-labeled for third-party use and private-branding. "It was very exciting to think that iMessenger was going to power other online communities," explains Erik, "taking what we learned from Cocktail Club, we focused on making a solid, reliable platform that could handle spikes in usage at our partner sites."
"It was really exciting to think that iMessenger was going to power other online communities", explains Erik, "we focused on building out a solid, reliable platform that could handle spikes in usage as we turned on our partner's sites."
During this time, Erik was hired by Imperial Bank as their VP of Technology and tasked with screening possible investments in technology companies. "I gained a lot from the people I worked with at Imperial Bank. I especially enjoyed the times when I was able to meet with George Graziadio, founder and benefactor of the Pepperdine University School of Business and Management."
In 2001, with the desire to focus on working directly with start-ups, Erik left his position at Imperial Bank and founded BMGI Ventures as an incubator for early stage start-up businesses. Using this platform over the next several years, Erik helped launched start-ups in a variety of industries:
Now having over 20 years of experience working one on one with all types of business owners and calling upon his own start-up expertise, Erik was looking for a way to reach a wider audience and help others through online training. He launched the Certified Entrepreneur® program in 2005 to provide practical knowledge to put directly to work in starting a business and he created a series of books and live training events for groups of business owners and start-up teams called the Entrepreneur Boot Camp®. Building upon his aptitude for education, Erik went back to school to earn a Master's Degree in Education in 2011.
In 2007 Erik began working with groups of business owners and start-up teams. This led to founding Entrepreneur Boot Camp® and later a series of books and live training events.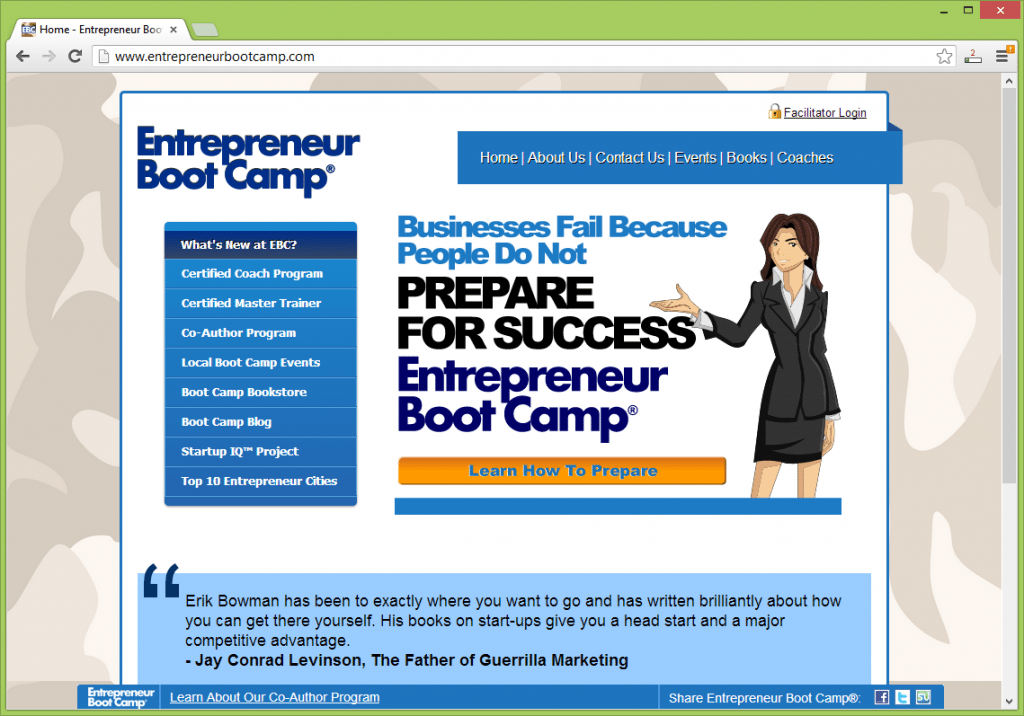 Entrepreneur Boot Camp®
Erik's most recent chapter is focused on turning authors into entrepreneurs. A best-selling author himself, Erik has written 15 books in the past 10 years and is now a sought after expert in the book writing, publishing and marketing process. Working with aspiring and established authors, Erik advises his clients on strategy and success planning for their books. He has also created several platforms to help those who want to make their book a reality including Authr.com, a crowd-funding platform exclusively for book projects and Erik is director of the Author Awards™.
Going back to his roots as a young entrepreneur selling flowers, Erik has also recently partnered with a best-selling children's author to launch Kid Conference a first-class global resource supporting kids and teens to learn invaluable business & life skills in a nurturing, empowering and fun environment.