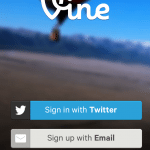 Many people are overloaded with social media marketing and social networking. Whether it's for business or personal connections keeping your existing social networking accounts updated can be time consuming and tiresome. Unlike Twitter, Facebook, LinkedIn or Google+ the Vine App can actually help you easily produce content for your other social networks and may actually save you some time as well. This article is written to help you get started with the Vine App.
So What is The Vine App
The Vine App is a very simple application built for the iPhone and iPad but will soon be available for Android as well. All it does it shoot very short video clips which you can then post to Twitter or Facebook. Okay, so the question you probably have is why? Why would I use this app instead of just shoot my own video with my standard iPhone camera app and post it myself.
First, the Vine app continually loops your video; so even if it's just 6 seconds long viewers may find the action entertaining simply because it repeats.
Second, it kind of takes the pressure off since you don't have to edit it, people won't expect much so if you do want to get creative you can really impress them.
Basic Videography Tips for the Vine App
So, you don't have to be creative to use the Vine App but if you follow some basic videography tips you might be able to engage your viewers a little bit more.
Plan. Think about what you want to shoot ahead of time. Planning you video will  help to ensure the subject or message that you want to promote is getting across to your viewers
Crop.  Physically move closer to the subject of the video to make sure your viewers get engage with what you want them to engage with.
Review.  Look for objects in the foreground and the background and make sure you and everyone in the video is agreeable to you posting it.
Describe. Take a few minutes to think about what you are promoting or what your video documents.
Hashtag. Be sure to enter 2 to 3 hashtags in the description of the video that are concise and descriptive of the subject of the video.
To shoot your video you simply tap the video camera icon and press your finger on the screen to record, lift your finger to pause recording and then press your finger on the screen again to resume recording.  This makes for very simple cuts in your video.
The Vine App Overview
First you'll need to install the Vine App
When you first launch the Vine App be sure to go through the built in tutorial.  It walks you through the Vine App step-by-step.